Turbo Snort Nasal Spray Gives Caffeine Heads a New Way To Wake Up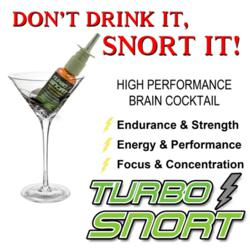 Clifton Park, NY (PRWEB) November 29, 2011
TS Enterprises has released the worlds first caffeinated nasal spray under the brand name, Turbo Snort. This new energy nasal spray is the latest answer to consumer demand for new personal energy alternatives in this already booming category. While there are dozens of caffeinated energy shots, drinks, gums, mints, pills and mouth sprays, Turbo Snort could change the way consumers get their morning jolt of caffeine by way of the nose.
During the past decade, the caffeine energy market has grown into a recession proof giant that draws consumers from all walks of life. The craze that started with sleep deprived college students has expanded to athletes, fitness buffs, business people, moms on the go, or anyone who needs more pep to get through their day. Turbo Snort is designed to meet the needs of all caffeine consumers with a revolutionary way to deliver maximum safe energy and endurance.
Turbo Snort is a naturally caffeinated formulation that is fortified with the popular performance amino acids creatine, taurine and glutamine. Because the ingredients are delivered up the nose and absorbed through the blood-brain barrier, only tiny doses are needed for maximum results. Since the active ingredients dont have to travel through the body, the effects are instant and long lasting. Best of all, there are no jitters or crash effects, normally associated with caffeinated energy products.
Turbo Snorts homeopathic formulation features herbal extracts of guarana, green tea and kola nut to deliver the energizing and mental focus properties of caffeine. The amino acid complex is a proprietary combination designed to increase absorption and regulate the delivery of sustained energy and endurance throughout the body. Each spray delivers 0.96 mg of amino acids and less than 1 mg of caffeine, but the effects are far superior to overly potent energy drinks. Just two sprays per nostril provides up to three hours of sustained energy and superior mental focus.
Turbo Snort is available at online retailers, gyms, convenience stores, supermarkets and health food shops, or directly through the manufacturer at Greensations.com. Samples are available for qualified media personnel and potential retailers upon request.
TS Enterprises is a division of Greensations, a company best known for developing a variety of natural anti-aging products. Some of their more popular brands include ThermaSkin, Venomous, Fresh Beauty Market and ThermaScalp.
# # #
More Herbal Tea Press Releases
Related posts:
Changing Times in China: Models Reject Traditional Chinese Medicine, Turning to Western Science to Lose Weight and Spray Away Hunger
Return to
Herbs For Health