Posts tagged "This"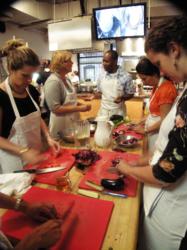 New York, NY (PRWEB) November 18, 2011
This year holiday shoppers can give a present that will truly be savored — a gift certificate to The Natural Gourmet Institute (NGI), Manhattans foremost culinary school devoted to preparation of natural, whole foods. With a wide range of classes, dinners, and products, there is something for everyone on the list!
Educational, Enlightening and Epicurean Public Classes
NGIs public classes offer excellent learning opportunities to the general public, providing an ever-expanding array of approaches to health-supportive cooking, which includes global and regional gourmet cuisine, knife skills, cooking techniques and specialty classes such as gluten-free baking, macrobiotics, raw foods, cooking with kids, Ayurveda and more.
Just a few of the courses available at NGI this winter include:
Creative Pasta-Making for Teens (Ages 12-15)
This interactive class is for pasta-loving teens and tweens. Delicious pasta starts with well-made dough and they'll create theirs from scratch (by hand) and with a pasta machine. Chef Instructor Stefania Patinella will show them how to vary the flavors and textures of their pasta by using different flours, then they'll roll out your dough, shape it, stuff some, and prepare traditional sauces to complement their creations. Here's what they'll make and enjoy: Squash-Stuffed Ravioli with Butter-Sage Sauce Fettuccine with Basil-Almond Pesto Agnolotti with Spinach and Ricotta in Classic Tomato Sauce Baby Spinach, Pear and Walnut Salad with Balsamic Vinaigrette. (Organic eggs and optional dairy will be used.)
Monday, January 16, 12:00 pm – 3:30 pm
Fee: $ 90.00
A Chinese New Year Hot Pot Dinner
Chinese New Year, celebrated on January 23, 2012, rings in the Year of the Dragon! The Natural Gourmet Institue invites students to celebrate this auspicious event as millions will the world over, with an authentic Asian Hot Pot. Chef Instructor Jay Weinstein, whose travels in the Chinese-speaking world ignited his passion for this seasonal banquet, will briefly recount its history and lore; then the class will prepare their own handmade tofu and seitan, vegetarian dumplings, mushroom-seitan "wheatballs," and an endless assortment of fresh vegetables, silky mushrooms, lotus root, sea vegetables, long beans, and other treats to simmer as they dine. Mixing and matching, they'll submerge each delicious bite in their choice of vegan or egg broth until perfectly cooked, and then dip them into their choice of exquisite sauces. The grand finale of a Hot Pot meal is the broth itself, imbued with the flavors of our cooking and augmented with bean thread noodles and edible chrysanthemum leaves. (Vegan; optional organic eggs will be used.)
Friday, January 20, 6:00 pm – 9:30 pm
Fee: $ 110.00
Cook 1 Day, Eat for 5
A demanding schedule really can accommodate homemade meals! Students will learn to cook up Chef Instructor Jay Weinsteins delectable dinners on one weekend day and so they can sit down to a great meal Monday through Friday. Reheating takes just 20 minutes. They'll get guidance in every step, from stocking staples to time management and how to freeze and store. They'll cook in teams, one vegetarian and one non-vegetarian. Butternut Squash and Tuscan Bean Stew with Collard Greens and optional Chicken New England Chowder with Celery, Potatoes, Barley, and optional Fish Italian Crepes with Root Vegetable and Ricotta Filling Cassoulet of Roasted Vegetables with Cannellini Beans, Herbed Breadcrumbs, and optional Lamb Crisp Beet Risotto Cakes on Warm Endive and Watercress Salad with optional Goat Cheese. (Organic eggs and dairy will be used, with optional fish, organic chicken, and pastured lamb. Wine will be served.)
Thursday, January 26, 6:30 pm – 10:00 pm
Fee: $ 115.00
Gifts Galore
In addition to classes, gift certificates can also be used at the NGI store.
Have a cookbook lover on the holiday shopping list? He or she can choose from a wide array of inspirational reading choices. A full line of All-Clad Metalcrafters cookware, including MASTER-CHEF, LTD, COP-R-CHEF and MAGNA CORE, plus Duromatic pressure cookers and Le Creuset grills are also available.
A Unique Dining Experience- NGIs Friday Night Dinners
Friday Night Dinners are a great option for savvy New Yorkers and visitors alike who are looking for an innovative, healthy and yes, reasonably-priced meal. Every Friday night, the busy kitchens and classrooms at NGI are transformed into candlelit dining rooms where guests are served at communal tables. The delicious and beautifully presented 3-course vegetarian menu, which changes weekly, incorporates fresh, seasonal and mostly organic produce. The dinner is the culminating project for NGI's Chef Training Program students who plan the whole menu from start to finish. Many of NGIs graduates later work at some of the nations 5-star restaurants. Seating begins at 6:30pm for the $ 40 prix fixe meal (tax and tip included) and it's BYOB. Gift certificates are available for any denomination, so buy dinner for two or for ten!
The Ultimate Dream Gift The Chance to Train as a Chef!
Have a friend or a loved one who has always dreamed of being a chef? Help them join the ranks of other prominent NGI grads, including Tal Ronnen, private chef to Oprah Winfrey and author of The Conscious Cook; Amanda Cohen, owner of NYCs Dirt Candy restaurant and recent Food Network Iron Chef challenger; and Alex Jamieson, author of Veganism for Dummies. A gift certificate towards tuition for NGIs Chefs Training Program (CTP) will set them on their way. This mostly plant-based program provides the same basic skills training as its more mainstream counterparts, but takes it one step further. In addition to preparing its graduates for careers in 5-star restaurants, bakeries, catering businesses and other entrepreneurial pursuits, it is also dedicated to graduating chefs who are committed to using local, sustainable, organic, seasonal (when possible), fresh whole foods with an emphasis on traditional unrefined ingredients. Students learn not only to prepare delicious food, but how to use it as a tool for health and healing.
To purchase a Natural Gourmet Institute gift certificate, call 212-645-5170 (ext. 4). For more information about NGIs Chef Training Program, Public Classes and Friday Night Dinners, visit http://www.naturalgourmetinstitute.com.
###
More Chinese Herbs Press Releases
Return to
Herbs For Health
Question by Hoi: do this pills help me memory thing ? Mind-Power-Rx supplement mental enhancement herbs, memory pills, concentr?
because i easily forget everything i learned or studied
Mind-Power-Rx supplement mental enhancement herbs, memory pills, concentration,
do this help me for school work ?
Please send me a message back thank you
Best answer:
Answer by SkepDoc 3.0
Sorry, but there is no evidence that any herbs or nutrients in any combinations have the effect of "boosting memory" etc. The website that sells the stuff (and it's not cheap) offer nothing other than testimonials, they do not offer links to scientific evidence.
A good thing to do when checking out these places is scroll down to the bottom of the webpage for the "Quack Miranda Warning" which I've pasted below. Basically…even the website doesn't say this stuff works…because that makes them subject to lawsuits. REAL treatments have no such warnings in fine print.
"The products and the claims made about specific products on or through this site have not been evaluated by the United States Food and Drug Administration and are not approved to diagnose, treat, cure or prevent disease.
The information provided on this site is for informational purposes only and is not intended as a substitute for advice from your physician or other health care professional or any information contained on or in any product label or packaging. You should not use the information on this site for diagnosis or treatment of any health problem or for prescription of any medication or other treatment. You should consult with a healthcare professional before starting any supplementation program, or if you have or suspect you might have a health problem. "
Give your answer to this question below!
ONLINE EXCLUSIVE: White Weddings Go Green
Forced bulbs such as tulips or amaryllis, make lovely centerpieces in the dreary winter months as do potted herbs or terrariums of succulents. Plants make great favors, too. Plant a Memory in Locke, NY offers a huge selection of eco-friendly products, …
Read more on Albany Times Union


Gaia Herbs Mental Alertness, 60-capsule Bottle
Supports healthy oxygen flow to the brain and the micro-vascular system
Provides Plant Derived Antioxidant Protection
Ultimate Support to Improve Memory
Supports Healthy Oxygen Flow to the Brain and the Micro-Vascular System Provides Plant Derived Antioxidant Protection Ultimate Support to Improve Memory
List Price: $ 25.99
Price: $ 14.05
Return to
Herbs For Health
Categories: Herbs For Mind Tags: concentr, Enhancement, Help, Herbs, Memory, mental, MindPowerRx, Pills, Supplement, Thing, This
Joint Pain Relief – Read This To Get Rid Of Joint Pain
None of the joint pain is pleasing experience but some joint pains really turn everything difficult including your routine and day-to-day schedule. Joint pain could be acute or chronic. Acute joint pain only remains for a shorter duration as compared to the chronic joint pain that could last for several days, months and even in some unfortunate cases, even for years.
Depending on the causative factor and what degree it has, joint pain relief is quite possible. Joint pain relief from injured and dislocated joint pain is quite difficult and may seek some modern science help such as plaster etc. This is often treated using some pain killers i.e. medications. But if the joint pain relief is sought for general or normal joint pains, one can obtain with some herbal medications, oil (external) application, sudation (steam bath) along with some internal medication that includes herbal extracts or some patent formula using herbs those are natural analgesic and anti-inflammatory.
Nowadays, there are many ways to get a joint pain relief and the use of over the counter or prescription medications is a commonest way for treating the knee joint pain. But this could be strictly as per the health care provider\'s instructions. Common herbs used as joint pain relief include shallaki, guggulu, ashwagandha, punarnava, shunthi, marich, pippali etc. One can go for single herb or can go for some formula that contains the blend of these herbs.
]]>
Other group of medical practitioners favors taking natural supplements such as chondroitin and glucosamine as joint pain relief therapy. Such supplements have gained quite popularity as a useful alternative medication to deal with any body joint pain. Chondroitin and glucosamine are natural components found in the body and they help to build the cartilages in the joint (chondroitin) and fight the cartilage degeneration (glucosamine).
Ayurvedic practitioners use herbs like turmeric, ginger extract, grape seeds\' extract etc. those have also been reported to be effective as joint pain relief therapy.
Homemade remedies for treating joint pain can also be used. Let us learn some common remedies for joint pains:-
You can also go for the juice of a ginger and add some fine powdered vidanga (Embelia ribes, False Black Pepper) along with some rock salt. Mix them all and consume them in quantities of 3 gm a day preferably with honey. If possible, lick it thrice a day.
Ayurvedic scholars also believe that massaging the paining joints using oil extracted from the seeds of the Bishop's weed or herb like Nirgundi can be used as joint pain relief therapy. For this, one should warm the oil a little before massaging as warm oil penetrates faster. A similar kind of joint pain relief is gained by massaging with the oil of Neem (Azadirachta indica, Indian Margosa).
In case of joint pains because of chilly or cold weather, it is advisable to add a fistful of Bishop's weed seeds and 1 tsp of salt in 2 cups of water and then boiling it before using. Keep a sieve on this, and later keep a cloth on the sieve so that it gets moistened with the warm fumes coming from the medicated solution. Using the cloth to foment the paining joints helps in reducing pain and inflammation.
For more useful information visit Natural Cures for Arthritis and Joint Pain Relief at http://www.herbal-supplements-for-you.com
Return to
Herbs For Health