Posts tagged "Spray"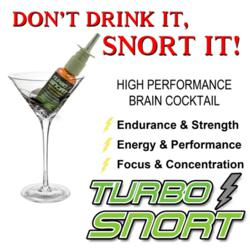 Clifton Park, NY (PRWEB) November 29, 2011
TS Enterprises has released the worlds first caffeinated nasal spray under the brand name, Turbo Snort. This new energy nasal spray is the latest answer to consumer demand for new personal energy alternatives in this already booming category. While there are dozens of caffeinated energy shots, drinks, gums, mints, pills and mouth sprays, Turbo Snort could change the way consumers get their morning jolt of caffeine by way of the nose.
During the past decade, the caffeine energy market has grown into a recession proof giant that draws consumers from all walks of life. The craze that started with sleep deprived college students has expanded to athletes, fitness buffs, business people, moms on the go, or anyone who needs more pep to get through their day. Turbo Snort is designed to meet the needs of all caffeine consumers with a revolutionary way to deliver maximum safe energy and endurance.
Turbo Snort is a naturally caffeinated formulation that is fortified with the popular performance amino acids creatine, taurine and glutamine. Because the ingredients are delivered up the nose and absorbed through the blood-brain barrier, only tiny doses are needed for maximum results. Since the active ingredients dont have to travel through the body, the effects are instant and long lasting. Best of all, there are no jitters or crash effects, normally associated with caffeinated energy products.
Turbo Snorts homeopathic formulation features herbal extracts of guarana, green tea and kola nut to deliver the energizing and mental focus properties of caffeine. The amino acid complex is a proprietary combination designed to increase absorption and regulate the delivery of sustained energy and endurance throughout the body. Each spray delivers 0.96 mg of amino acids and less than 1 mg of caffeine, but the effects are far superior to overly potent energy drinks. Just two sprays per nostril provides up to three hours of sustained energy and superior mental focus.
Turbo Snort is available at online retailers, gyms, convenience stores, supermarkets and health food shops, or directly through the manufacturer at Greensations.com. Samples are available for qualified media personnel and potential retailers upon request.
TS Enterprises is a division of Greensations, a company best known for developing a variety of natural anti-aging products. Some of their more popular brands include ThermaSkin, Venomous, Fresh Beauty Market and ThermaScalp.
# # #
More Herbal Tea Press Releases
Return to
Herbs For Health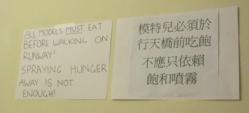 Beijing, China (PRWEB) October 29, 2011
China International Fashion Week, which actually runs for 10 days, kicked off with the "Tang-Jing" Fashion Show in the Golden Hall of Beijing Hotel.
Venture backstage to witness the chaos as the clock ticks down to the lights going up, and it is difficult not to be intrigued by a sign posted on the backstage curtain.
It reads in both English and Chinese, Models must eat before going on runway. Spraying your hunger away is not enough!
The sign is posted by organisers concerned about a slimming spray called SENSASLIM, and fearful of a repeat of an incident last year where a model collapsed on the catwalk from lack of energy brought about by food deprivation.
There is no eating to be seen. The models sit quietly in folding chairs, texting friends on their cellphones and getting their makeover. Hair is teased and braided, makeup applied, nails lacqueredand they spraythe hunger away!
Sensaslims success is measured by it being the hot topic of gossip amongst the super models who will strut their stuff this week.
It was first discovered at New York Fashion Week and Sensaslim success soon spread with the supermodels as they travelled to London, Paris, Milan and now Beijing.
The Norwegian model, Erjana Ala, discovered the SENSASLIM spray in her native Norway where it has recently been released.

"The other girls saw me spray it, and now everyone is wanting it, Ala says, as she squirts the oral slimming spray three times onto her petite tongue.
It isnt in China yet, so the girls are buying it on the internet and getting it sent by courier, she said. Its crazy how everyone is asking me where they can get it.
With the slogan, Nothing Tastes as Good as Slim Feels, a quote made famous by British model Kate Moss that saw her gain entry into the Oxford Book of Modern Quotations, it is little wonder that this slimming phenomenon has become such a hit with the supermodels.
Sensaslim Asia CEO Mr Stephen Kao is not surprised by the demand by models in China.
The origins of Sensaslim can be found in eastern medicine, he said. However western scientists took these ingredients to combine it in a product to solve obesity what was traditionally a problem in the west.

Now waistlines in China are expanding faster than almost anywhere else, he said.
Nearly a quarter of residents in the Earth's most populous nation are now overweight, according to a recent study.
Obesity among China's 1.3 billion people doubled among women and tripled in men from 1989 to 2000, according to a study published in the journal Health Affairs. China's rising prosperity, which allows more people to afford meat, dairy foods, vegetable oils and sedentary living, is fueling the growth, the study said.
The number of obese and overweight people in China, now at 325 million, could double in 20 years, spurring more diabetes and heart disease in what was once one of the world's leanest populations, said Barry Popkin, the study author and a nutrition professor at the University of North Carolina at Chapel Hill. It also could be a boon for drugmakers, said Ray Hill, an analyst with IMS Health Inc., a health-care research company.
China "has the highest growth rate for pharmaceutical sales than anywhere in the world," said Hill in a July 6 telephone interview. China was the world's ninth-largest pharmaceutical market two years ago and will be the fifth- largest by 2012, he said.
The study collected data on 20,000 people in China over the last 15 years and found that participants are eating more energy-dense foods, which have higher saturated fats and calories than vegetables and carbohydrates, said Popkin. At the same time, activity levels are dropping with more white-collar and manufacturing jobs, leaving China with the same caloric imbalance afflicting many Western countries: people eating more food and burning fewer calories.
SENSASLIM is being described as a dieters dream, the easy way to lose weight without ever feeling hungry. Some are calling it a models miracle. Others urge caution.

Erin OConnor, the super model and founder of the Model Sanctuary is one who urges moderation.
The talk this year amongst the boys and girls at Fashion Week is all about the SensaSlim Slimming Spray and they are describing it as a models miracle, OConnor said.
As a model for 15 years I understand the attraction of a product that takes your mind of food so you are never hungry, but like all good things, it needs to be used wisely, she said.
Sensaslim Research Director Dr Sommerville said Sensaslim was only to be administered three times a day, by two sprays onto the tongue, ten minutes before meals, and should not be used instead of food entirely.

Sensaslim was not designed for the underweight or normal weighted people but for those who are overweight or obese and need to lose large amount of weight, he said.
We would not encourage models to use it more than once a day as it is may work too well, as we saw in the case of a jockey who over did it.
Brazilian jockey Wanderon DAvila successfully sued the distributors of Sensaslim after he lost too much weight by using the spray which led to his disqualification when he rode a horse first past the post but weighed in too light.
Sensaslim is formulated in Switzerland and is sprayed three times daily onto the tongue, ten minutes before meals, Dr Sommerville said. Its all natural active ingredients enter the blood stream and naturally suppress the appetite.
Simultaneously, the taste buds are pleasantly desensitized by a natural herb. This sends a message to the satiety centre in the brain, and without affecting the central nervous system, he said.
The Swiss pharmaceutical company that develops SENSASLIM recently announced that it was excited by a Yale University study published this month in the Journal of Clinical Investigation, describing it as a major breakthrough in supporting their products science that obesity is affected by how well a control system in the brain is working.
###
Find More Slimming Herbs Press Releases
Return to
Herbs For Health
AsthmaMist Homeopathic Spray Reviews ? Free Trials Asthma Mist Spray Review
AsthmaMist Quick Homeopathic Spray Does It Work? Free Trial Asthma Mist Spray Review
Asthma is a health problem that won't go away permanently. Treat the signs and symptoms for now, just to have them come back again. This is classified as a chronic respiratory disease, and it is for this reason that the corticosteroids and bronchodilators prescribed by doctors are taken in a long-term basis. And corticosteroids, when taken long-term produce horrible side-effects including physical changes and deformities that won't, in any way, change you into a better looking person.
To find out where to buy AsthmaMist herbal homeopathic relief spray or how to get free trials Asthma Mist free trial promo offer, all you have to do is click this link right here: ====>>> AsthmaMist Homeopathic <<<====
AsthmaMist natural homeopathic spray can treat the recurring disease like any corticosteroids can, MINUS the terrible side-effects of the drugs. The multitude of herbs put together in this product produce a synergistic effect with each other, turning the concoction into a more potent formula.
Among the side-effects avoided with the use of AsthmaMist homeopathic asthma relief include: hirsutism, the medical term for excessive growth of hair in the body due to unexplained reasons, probably due to hormonal disruption caused by the drug; moon face, this is the swelling of the face turning it into a large round-shaped head without the contours you once had; Dowager's hump, the large bump at the back due to skeletal changes and undesirable plumpness especially at the trunk with the limbs thin and wasted; diabetes, due to the changes caused into the glucose-insulin balance in the body; psychiatric symptoms like moodiness, depression, mania, mental confusion and psychosis; acne, even after suffering from them during teen hood; awfully large and SCARY stretch marks; bone problems like osteoporosis and even retarded growth in children, etc, etc, etc.
]]>
AsthmaMist herbal homeopathic relief is of course based on the principles of homeopathy which uses natural remedies to treat diseases. The ingredients used in this formula have been in use and are proven by many homeopathic practitioners world-wide. With the antiasthma properties of these herbs put together, this powerful and potent herbal mixture can relieve you of the signs and symptoms of the disease without ever causing any undesirable side-effects.
This quick herbal asthma relief treatment product is easy to use. With just 2 sprays under the tongue three times a day, you'll be functioning like any healthy and active person does without worrying about attacks. It is fast-acting since it is delivered straight into the bloodstream due to the abundant vessels found under the tongue.
With this formula, you no longer have to suffer from the signs and symptoms of asthma, and as if the disease is not bad enough, there's also the atrocious side-effects caused by the drugs. This 100% natural herbal based product for asthma sufferers ensures you no longer have to endure such tortures and does its job exceptionally. With it in hand, asthma and side-effects will no longer be a part of your worries. And did I forget to mention that you can even avail of their on-going free trial AsthmaMist free trial samples offer promo to try it out before you buy? Well you've heard it now. The choice is entirely yours to give this product a trial if your one of those still asking does Asthma Mist work?
To find out where to buy AsthmaMist herbal homeopathic relief spray or how to get free trials Asthma Mist free trial promo offer, all you have to do is click this link right here: ====>>> AsthmaMist Homeopathic <<<====. Have a nice day
To find out where to buy AsthmaMist herbal homeopathic relief spray or how to get free trials Asthma Mist free trial promo offer, all you have to do is click this link now: AsthmaMist Homeopathic
Return to
Herbs For Health